Deity by Jennifer L. Armentrout
The third book in the Covenant series
Coming November 6, 2012
MY THOUGHTS
I love all the covers in this series. They are absolutely gorgeous. And shiny. Each one of these fire flowers is stunning and different, but yet they all work together so well. Just look at the covers for Daimon, Half-Blood and Pure, below, and you can see how cohesive they all look side-by-side.
The cover for Deity, revealed above, is actually a little more complex than the other three covers and draws my eye not only to the flower in the foreground, but the image and symbol in the background. Which I am extremely curious about, and I haven't even read Pure, which is due out on April 2, 2012.
Each one of the covers has colors that are rich and have a depth to them that just captivates me. And while my current favorite may still be Pure, it might only be because I covet that next book in the series.
Apollyon, the fourth book in the series is slated for publication in 2013.
ABOUT THE AUTHOR
Jennifer L. Armentrout lives in West Virginia. All the rumors you've heard about her state aren't true. Well, mostly.

When she's not hard at work writing, she spends her time reading, working out, watching zombie movies, and pretending to write. She shares her home with her husband, his K-9 partner named Diesel, and her hyper Jack Russell Loki.

Her dreams of becoming an author started in algebra class, where she spent her time writing short stories…therefore explaining her dismal grades in math. Jennifer writes Adult and Young Adult Urban Fantasy and Romance.
PLACES TO STALK
The author's Website
The author's Blog
The author on Twitter
The author on Blog TV
The series fan page on Facebook
Three beautiful covers side-by-side
So, if you have read the books – or you haven't, but just know how awesome Alex is – head over to the YA Sisterhood's blog and cast your vote for her!
Just click the "Vote Alex" button below and you'll be taken to the match! Voting ends at Midnight, Eastern.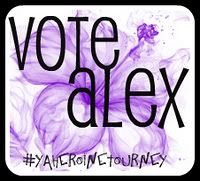 Oh, and if I didn't mention it earlier, if Alex wins her match today, author Jennifer L. Armentrout will be posting an EXTRA SCENE between Alex and Aiden that takes place somewhere between where Half-Blood ends and where Pure begins.

And for those of us who loved Half-Blood and who don't have a copy of Pure to dive into, that sounds pretty a-mazing!
So…. VOTE ALEX!!!